Home
/
Realty Home
/ 3.12 Acre Acreage, Mingo, IA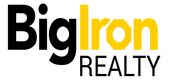 By bidding you are agreeing to terms and conditions of BigIron Realty. Click Terms and Conditions to view details.
Contact Form
Message has been successfully sent.
General Description
This cozy 3.12, acre shop house design, residential property is located approximately 15 miles east of the East 1st Street exit on I-35.Built in 2000, it has a ground floor living area of 930 square feet and an open floor plan kitchen, dining, and living area. This open space is 19'5" x 20'6"and has a high vaulted ceiling with ceiling fans. There is a main floor 11'5" x14'6" master bedroom suite with a walk-in closet, plus a non-conforming upper-level loft guest bedroom. The full bath is conveniently located in a hallway, plus a one-half bath is in the master bedroom. The shop areas entrance could be a pantry, office, or craft room. The laundry is located on the main floor.
The shop area is approximately 1510 square feet and has an upper-level loft for additional storage. The overhead door into the shop area is 12' wide and 10' tall. The shop space is not insulated or finished.
There is a steel frame building used for RV storage. It is a 14' x 32' building with a lean-to on one side that measures approximately 11'6" x 32'. An older wood-frame shed was used for storing utility tractors, mowers, and general storage.
The south end of the property has been used for raising a hay crop. The Seller says that up to 2 horses may be kept on this property, if it is fenced. Also, there is a potential for building a new home or two on this site. It is currently zoned rural residential. As always, we encourage potential buyers to do their own due diligence to determine if zoning laws permit their intended use of this property.
The bidding increments will be $1,000.The final sale price will be the highest bid. The real estate agent reserves the right to adjust bidding increments.
There will be an open house on August 19, 2022, from 4:30-6:30
Plan to Attend the Informational Meeting & Auction:
Residential location
14606 N 51 Ave W
Mingo, IA 50168
BigIron Realty Agents will be on location at 14606 N 51 Ave W, in Mingo, IA, on Tuesday, August 30, 2022, from 8:00 a.m. until the conclusion of the online auction. Please visit us during the scheduled time to discuss this residential home. We will assist Buyers with registering to bid online, answer questions, and provide information. You do not have to be present to bid online, but you are required to be available by phone.
Bidding Process: You may place bids on this property for 14 days beginning August 16, 2022, and ending August 30, 2022, at 10:00 a.m. CDT. This unreserved online auction features bidding extensions. If a bid is received within five minutes of the scheduled close time, the bidding period is automatically extended to five minutes. This will continue until there is a five-minute period where no bids are placed. NOTE: Do not wait until the day the auction closes to register to bid online. All bidders must be approved to bid, so register at least 24 hours prior to the auction close or call 800-887-8625 for assistance.
School District: Colfax-Mingo
Address: 14606N 51 Ave W, Mingo, IA
Legal Description: 7-8-21 Valley View Estates, Lot 9 & Parcel A of Lot 17.
2021 Taxes: $1,336.00
Owner: Ronald E. Leer
Title Services: Otto Law Office PLLC, Newton, IA
For more information, contact listing agent:
Mike Howk 641-208-6453
Terms: The successful Buyer will be required to enter into a written purchase agreement immediately after the sale with a 10%non-refundable down payment to the closing company, with the balance due at closing. The earnest deposit can be made by a personal check, company check, or wire transfer. Closing will be on or before September 30, 2022. Possession will be at closing. The Seller will provide marketable title to the Buyer, evidenced by title insurance. The Buyer will be responsible for all other closing costs. The 2022 taxes will be prorated to the closing date. The property will not be sold subject to financing. Please have all financial arrangements made prior to the auction. The written purchase agreement, to be signed by the Seller and Buyer after the auction, is the sole and controlling document of this sale and supersedes any and all other terms, whether verbal, written, expressed, or implied, and shall be the sole and controlling document for this real estate transaction. BigIron Realty is working for the Seller.
Bidding Increments
For amounts up to...
Increment
US $0 or larger

US $1,000
---
---
Terms
---
Please see each Lot for specific terms.